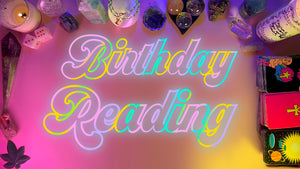 MUST BE 18+ TO RECEIVE A READING. THESE MESSAGES OFTEN CARRY MATURE THEMES THAT ARE NOT SUITABLE FOR CHILDREN. 
Contact email- SHADOWPLAYTAROTREADINGS@GMAIL.COM
THESE ARE ALL PRE-FILMED READINGS THAT WILL BE SENT YOU VIA EMAIL. IF YOU'RE INTERESTED IN A LIVE SESSION, PLEASE CHECK OUT THAT LISTING FOR ADDITIONAL INFORMATION.
SPOILER ALERT! It doesn't technically HAVE to be your birthday to treat yourself to this reading and blessing! It's open to everyone and anyone that feels called to it.
Welcome Friends!
If you're finding yourself here it's probably because you're familiar with my reading style and you're interested in a personal reading! Thank you for trusting me to deliver these messages, it's an honor to do this for you! 
If you're new here and have never heard one of my readings- please check out my free collective readings over on YouTube to get a feel for my reading style :)
These personal readings are done in the same format as a collective reading, except they are just for you and uploaded via a private link! You'll be able to come back to your reading and watch it as many times and as often as you'd like. 
Birthday Reading- What to expect!
This reading is 45 mins long. I'll be looking into your current energy and what lies ahead for you this solar return. We will be asking your guides to provide us with messages for your highest good in the upcoming year, asking for what blessings are heading your way and ending your reading with a special birthday blessing where I will be burning a bay leaf with your name, birthdate and blessing. PLEASE INCLUDE YOUR BIRTHDATE IN THE NOTES SECTION SO I CAN WRITE IT ON YOUR BAY LEAF!
What to expect-
Videos are 45 mins long depending on the what comes through during your reading. I'll be looking into your current energy and going over all messages in depth then asking for advice. You can expect a variety of subjects to be touched on but the biggest focus will be on the area(s) that your guides would like to make you aware of. I pick the decks I use for your reading intuitively and all readings include a charm reading at the end!
Why do I need to enter my zodiac sign when I purchase my reading?
In short- for clarity on my part! This bit of information helps me identify your energy when I'm reading the cards and other energies (people) begin to come through in your reading.
You can expect to receive your reading within a week of purchase. Please make sure to provide your email address at check out- this is where I'll be sending your private link to your reading! 
 Please reach out if you have any questions before purchasing your reading! You can email me SHADOWPLAYTAROTREADINGS@GMAIL.COM
 **By purchasing this reading you my friend, are agreeing to these minor terms-
I am not responsible for any messages come through during your reading. I will be delivering these messages to the highest integrity of my ability, channeled messages are beyond my control friends.
Occasionally I will touch on topics such as potential pregnancy, health recovery and mental health- but these are topics that I don't go in depth with. I am not a medical professional. Please see a professional when it comes to those things!
At the end of the day you have free will! You are responsible for your own actions/decisions and you can create your own destiny. This is true even if you hear something you don't like in your reading- you have the power to choose differently and change the course!